Accelerating the Reach and Impact of Treatments for Youth
The Center to Optimize Evidence-Based Practice Implementation for Clinical Impact — or IMPACT Center — is funded by the National Institute of Mental Health as an ALACRITY research center (Advanced Laboratories for Accelerating the Reach and Impact of Treatments for Youth and Adults with Mental Illness).
The IMPACT Center was created to improve mental health outcomes for youth in under-resourced community-based settings by accelerating the impact of evidence-based practices. The Center is a strategic partnership among Kaiser Permanente Washington Health Research Institute (KPWHRI), the University of Washington (UW), and the University of Michigan (UM).
The IMPACT Center aims to:
Optimize implementation research by partnering with and prioritizing practice partner goals to increase quality of evidence-based practices for youth receiving mental health care in community settings.
Advance methods and toolkits to address three challenges to implementation: Identify and prioritize determinants; Match strategies; and Optimize strategies for practice partners and researchers.
Iteratively refine methods via three exploratory studies and our pilot study program, all of which focus on implementation strategies to improve treatment quality and near-term clinical impact for youth.
Train members of the scientific workforce to effectively and equitably partner with the practice community and other stakeholders in using IMPACT methods.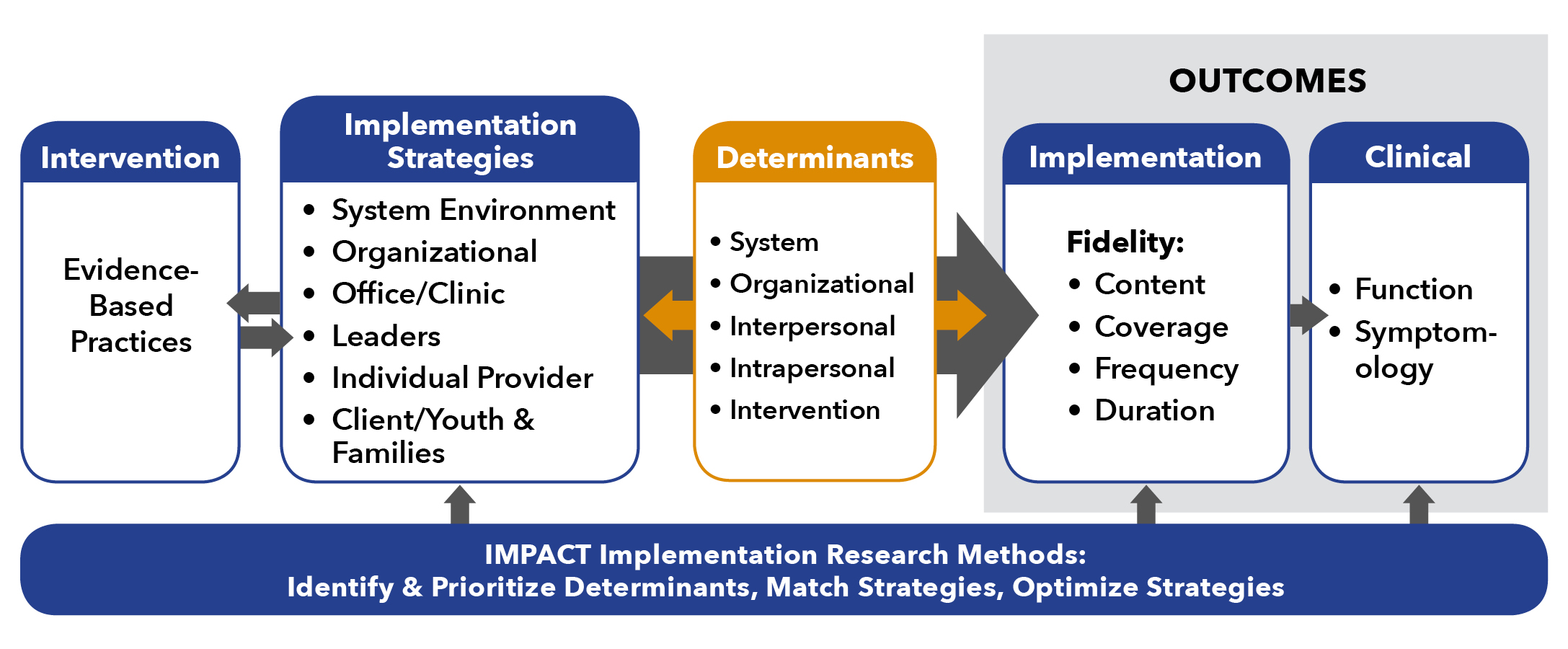 The IMPACT Center is guided by our IMPACT Quality Model, adapted from Proctor et al., which distinguishes clinical interventions (i.e., evidence-based practices) from implementation strategies (e.g., training), and clinical outcomes (e.g., depression) from implementation outcomes (e.g., fidelity).
These distinctions underscore that evidence-based practices may not result in mental health benefits without implementation strategies to support their integration.
The IMPACT Center uses the IMPACT Quality Model to relate clinical interventions, implementation strategies, and determinants to implementation and clinical outcomes, so that the model can guide IMPACT processes and evaluation. The IMPACT Quality Model explicitly shows that if strategies are not aligned with the most influential determinants in specific community or clinical settings, or not optimized for maximal effectiveness for improving evidence-based practice fidelity, then the interventions (evidence-based practices) will not have their intended impact on treatment quality (fidelity) or clinical/mental health outcomes.
Guided by this model, the IMPACT Center will collaborate with stakeholders to optimize strategies targeting prioritized determinants at multiple levels. This work will ensure that evidence-based practices are delivered with fidelity and will lead to improvements in mental health outcomes for youth.
Focused on innovation and impact
We are shifting the implementation paradigm from the current practice of deploying strategies based on their general effectiveness, to one that supports the precise targeting of high-priority barriers with optimized strategies.
Improved methods for identifying and prioritizing barriers
Refined methods for matching implementation strategies to barriers
Optimized strategies ready for large-scale evaluation and use
Learn about IMPACT Center methods for optimization